Flake Ice Plants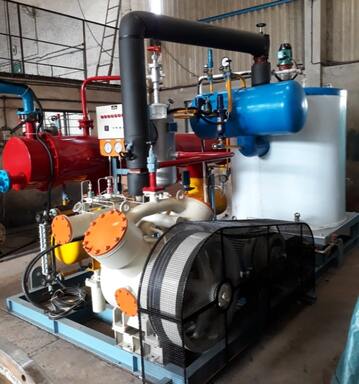 Capacity :: We can achieve any capacity (Ice Tons) with the combination of various Low side & High Side equipment's like, Flake Ice Maker, Refrigeration Compressor, Condenser, Cooling Tower, Piping, refrigeration controls etc.

Applications:Chemicals Pigments & Dyestuff, Fish processing export industries, chicken & Meat processing, Bakeries, For concrete cooling application like Nuclear & Hydroelectric power plants, Heavy Dam Construction.

Type :
Skid Mounted - 1 to 30 TPD,
Site installed - Any desired capacity,
Containerized - Up to 75 Ton storage capacity and easy for site relocation & also reduces site erection time.
Refrigerants :
: Ammonia, 404A, HFC-R407b
Features :
Factory assembled containerized or skid mounted plants, reduces installation space requirement & erection/commissioning time at sites.
In case of concrete applications, skid mounted plants can be easily shifted to other sites after completion of concrete work at one site.
User friendly & proven design.
Timely & quality after sales service.
Our system design ensures the high refrigerating efficiency.
Safe and reliable.
All parts are interchangeable. Accessories used are from reputed manufacturers.
Flake Ice Plant :
Model No.
Nominal Capacity
Compressor Motor Power
Cooling Water Pump
Cutter Motor
Cooling Tower Fan Motor
Make Up Water Circulation Pump
Total Installed Power
Dimensions For Skid Mounted Plant In 'm'
Flake ice plant with Flake Ice Maker MOC: SS, CS & Chrome Platted
TDP
kW
kW
kW
kW
kW
kW
L
W
H
PE-FIP-A-3
3
11
1.1
0.37
0.75
0.37
13.22
5.5
2.2
2.4
PE-FIP-A-05
5
18.5
2.2
0.37
0.75
0.37
21.82
6
2.2
2.8
PE-FIP-A-10
10
37
2.2
0.75/td>
0.15
0.37
41.45
8
2.2
3.3
PE-FIP-A-15
15
55
3.7
0.75
1.5
0.37
60.95
8.5
2.3
3.5
PE-FIP-A-20
20
75
3.7
1.1
2.2
0.37
82
9
2.5
3.7
PE-FIP-A-25
25
110
5.5
1.1
2.2
0.37
118.8
9.3
3
4.2
PE-FIP-A-30
30
110
5.5
1.1
2.2
0.37
118.8
9.5
4
4.2